RV travelers love fall at Ontario Parks even after Canadian Thanksgiving (the second Monday in October). Some even camp in winter. Park staff affectionately call these campers 'winter warriors' since staying warm and maintaining the water systems in your RV in Ontario's winter temperatures is a challenge.  These four Ontario Parks are your best bet for late fall camping in an RV. Know that trailer fill stations for water are normally closed later in the season, based on weather.  However, three parks have campgrounds offering electrical service and comfort stations with hot showers that are open year-round. The fourth, Killarney Provincial Park, does not have electrical service.  The park also closes its comfort stations and turns off its water systems following the Canadian Thanksgiving, but the bathrooms outside of the main office remain open along with a tap so campers can access water to fill large jugs. Don't forget that you need a park permit to camp in any season at Ontario Parks. More detailed RV information is on the Ontario Parks web site.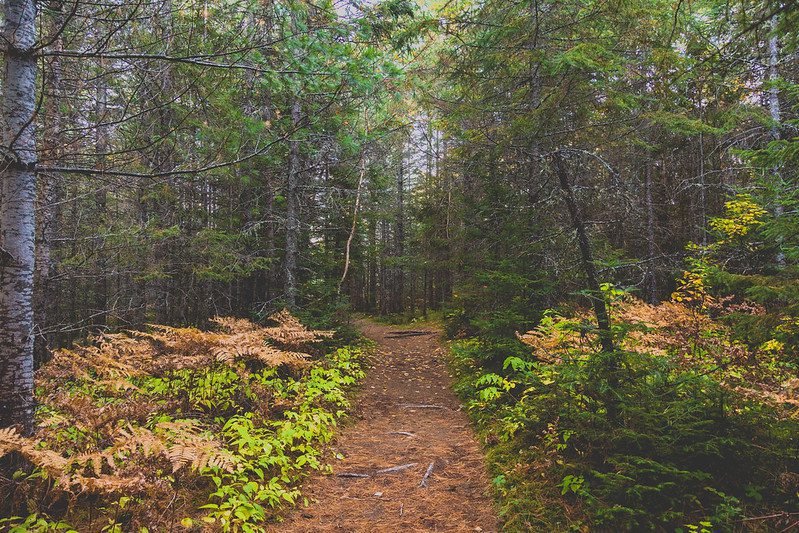 In Algonquin Provincial Park, is Ontario's oldest provincial park and its most famous. It's about 3.5 hours north of Toronto at km 30.8 on Highway 60 which runs east-west through the southern portion of Algonquin.  You can get cell phone reception at the Algonquin Visitor Centre which is open on weekends. Algonquin's legendary fall colors generally peak in late September. Late fall colors known as the 'golden encore' are worth experiencing too, especially on the park's many hiking trails. Ian Shanahan, a former Algonquin Natural Heritage Education Specialist, describes the 'golden encore' in this Park Blog post. In winter, Algonquin's cross-country ski trails are fantastic. They're groomed, well-signed and include heated warming huts. Pine Tree Loop, one of Algonquin's Leaf Trails is regarded by many as the finest cross-country ski trail in 'southern' Ontario. For Algonquin's news, follow @Algonquin_PP
Along with its year-round Birch Boulevard Campground is on Lake Huron near Port Elgin, about 4 hours northwest of Toronto. Campsites are available on a first-come, first-served or reservation basis, depending on the time of year. Birdwatchers 'flock' to this park especially during spring and fall migrations. Visit in spring for the park's annual spring Huron Fringe Birding Festival which celebrates the return of songbirds. And in the fall, Wild for the Arts art festival is another popular park event. Electrical sites in Birch Boulevard are large, level, and well-treed. Staff suggest you pack an extra-long electrical cord to ensure you can reach your site's electrical outlet. Park hiking trails range from easy to moderate. Mountain biking is also permitted on some trails so pack your bike. In winter, the park's heated yurts are popular for overnight stays. Eleven kilometers of trails are groomed for cross country skiing, and you can ski or snowshoe many more kilometers of unplowed park roads. If you love to skate (weather-permitting).  MacGregor Point's cool skate path through the woods is worth the drive. For the latest park news, follow @MacGregorPoint on Twitter.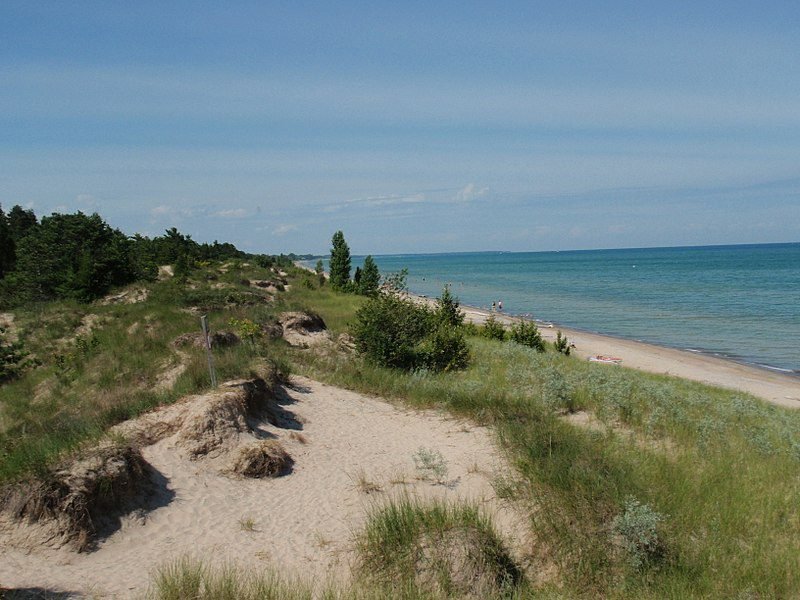 The sunsets here on Lake Huron are rated by National Geographic as "among the top 10 best in the world'. This popular beach park is booked solid in summer but in late fall it is far less busy and offers some good year-round recreation in its rare Carolinian forests and rolling dunes. There are 10 kilometers of walking trails, a 14-kilometer bike trail and 38 kilometers of groomed ski trails (weather-permitting). Thousands of Tundra Swans pass by the park in spring. In winter, Red-tailed Hawks and Tufted Titmice hang out at the park's Visitor Centre feeders. The park's Riverside Campground Area 1 stays open all year and has electrical outlets and a winterized comfort station with flush toilets and showers. Heated yurts and a winterized cabin are also available for rent in the campground. Get Pinery's latest news on Twitter @PineryProvPark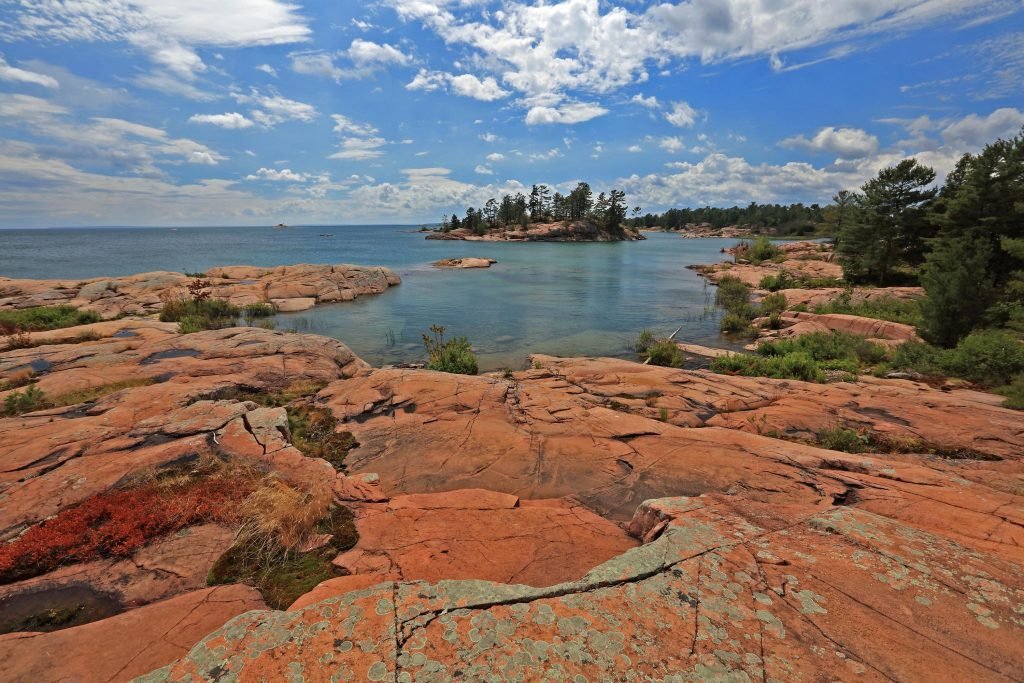 A wild Lake Huron- Georgian Bay coastline, the LA Cloche quartzite mountain range and 50 sapphire-colored lakes are what you can expect to see at Killarney Provincial Park. Fall hiking trails range from two to sixty kilometers in length and their degree of difficulty runs from moderate to strenuous. You can also bike Killarney's roads or the bike trail which runs along the Chikanishing Creek to the Chikanishing Access Point. George Lake Campground is open year-round but as mentioned earlier in this post, it does not have electrical sites and turns off its water and closes its comfort stations following the Canadian Thanksgiving holiday (second Monday in October). Park staff do leave the main office outside bathrooms open and have installed a tap specific to fill large water jugs. In winter, George Lake campground is walk-in only. Cross-country skiers and snowshoers rent the campground's heated yurts.  Park staff provide toboggans so campers can haul their gear to a heated yurt. Staff say winter campers love the walk-in since it gives them a sense of "remoteness". The trail is between 500 and 700 meters long.
Resources
In conclusion, late fall RV camping in Ontario offers a unique experience for adventure enthusiasts who wish to enjoy the beauty and serenity of Ontario's provincial parks. With parks like Algonquin, MacGregor Point, Pinery, and Killarney, visitors can enjoy a variety of outdoor activities, including hiking, birdwatching, skiing, and snowshoeing. Be sure to visit the official websites and social media pages of these parks for the most accurate and up-to-date information on facilities, events, and any potential seasonal closures.
Featured Image Credit: ZIPNON / Pixabay
In Post Image 1: Tony Webster / flickr
In Post Image 2: Wikimedia Commons
In Post Image 3: Wikimedia Commons
In Post Image 4: Wikimedia Commons