If you're considering joining the world of RVing, you might be feeling overwhelmed by the numerous options, types, and features available. In this article, we'll guide you through the process of shopping for and buying an RV that's perfect for your needs and budget.
New vs. Used RVs
Before you start your search, it's important to determine whether you want to purchase a new or used RV.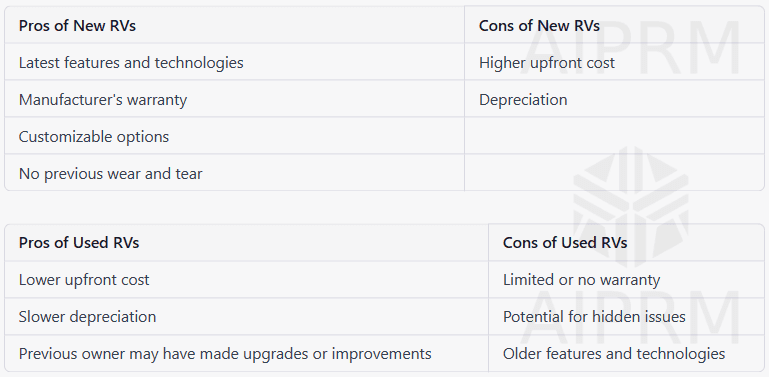 Factors to Consider When Buying an RV
There are several important factors to consider when deciding on the right RV for your needs and preferences.
Size and Space Think about how much space you'll need for your travels, including sleeping arrangements, storage, and living areas.
RV Types Research the different types of RVs available, such as Class A, B, and C motorhomes, travel trailers, fifth wheels, and pop-up campers, to determine which is best for your needs.
RV Floor Plans Examine different floor plans to find one that meets your requirements for functionality and comfort.
Towable or Motorized RVs Determine whether you prefer a towable RV, which requires a separate vehicle for towing, or a motorized RV, which combines the living quarters and the driving component in one unit.
Durability and Construction Quality Investigate the construction quality and materials used in the RVs you're considering to ensure they'll stand up to your intended use and travel conditions.
Features and Amenities Make a list of must-have features and amenities, such as a full kitchen, bathroom, entertainment system, or solar panels, and prioritize them during your search.
Financing and Budgeting for an RV
It's crucial to create a budget and consider financing options before making an RV purchase.
Determine Your Budget Establish a budget based on your financial situation, keeping in mind that the cost of an RV can range from tens of thousands to hundreds of thousands of dollars.
Cost of Ownership Consider the ongoing costs of owning an RV, such as maintenance, fuel, insurance, registration, and campground fees, when determining your budget.
Financing Options Explore various financing options, including loans from banks, credit unions, or specialized RV lenders, and compare interest rates and terms to find the best deal.
Insurance and Extended Warranties Research insurance coverage and costs, and consider purchasing an extended warranty to protect your investment, especially if you're buying a used RV.
Depreciation and Resale Value Keep in mind that new RVs typically depreciate faster than used ones, which may affect your decision-making process. Consider the potential resale value of the RV you're interested in, as this can impact your overall investment
How to Rent an RV
Renting an RV can be a fun and exciting way to travel and explore new places. To ensure you have a smooth and enjoyable experience, it's important to understand the rental process, insurance, and costs involved, as well as choosing the right RV for your needs. In this guide, we will discuss the following topics:
Rental Platforms and Services
There are several platforms and services available to help you rent an RV. Here are some popular options:
Online RV rental marketplaces: Websites like Outdoorsy, RVshare, and Cruise America offer a wide selection of RVs available for rent from private owners and dealerships. You can search for an RV based on factors like location, price, size, and amenities.
Local RV dealerships: Many RV dealerships also provide rental services. Search online or check your local Yellow Pages to find an RV dealership near you. Renting from a dealership can offer the advantage of professional support and maintenance throughout your trip.
Peer-to-peer RV rentals: Similar to Airbnb for homes, websites like Outdoorsy and RVshare also offer peer-to-peer rental options, connecting private RV owners with renters. This can be an excellent way to find unique RVs at potentially lower prices.
Rental Insurance and Costs
Before renting an RV, it's important to understand the associated costs and insurance requirements:
Rental fees: The rental fee for an RV typically depends on factors like the RV's size, age, amenities, and the duration of your trip. Be sure to budget for additional expenses like fuel, campsite fees, and any optional extras (e.g., bedding, kitchenware, etc.).
Insurance: Most RV rental platforms and dealerships require renters to have insurance coverage. Some platforms, like Outdoorsy and RVshare, offer insurance policies directly through their websites. Alternatively, you can check with your auto insurance provider to see if they offer RV rental coverage.
Security deposit: Renters are usually required to pay a security deposit, which is refundable if the RV is returned in good condition. The amount varies depending on the RV and rental platform, so be sure to check the specific terms and conditions.
Choosing the Right RV for Your Trip
To ensure an enjoyable experience, it's crucial to select an RV that suits your needs and preferences:
Size: Consider the number of people in your travel party and the amount of space you require for sleeping, cooking, and relaxing. RVs come in various sizes, from compact camper vans to large motorhomes.
Amenities: Think about the amenities you need, such as a bathroom, kitchen, air conditioning, or heating. Also, consider any specific requirements like pet-friendliness or wheelchair accessibility.
Driving experience: If you have never driven an RV before, you might want to start with a smaller, more manageable vehicle. Be sure to check the driving license requirements for the RV you are interested in, as some larger vehicles may require a special license.
Budget: Set a realistic budget that includes the rental fees, insurance, fuel, campsite fees, and any additional expenses you may incur during your trip.
By considering these factors and researching your options, you can find the perfect RV for your adventure and enjoy a memorable trip.
A Tour of RV Types (or "Classes")
Recreational vehicles (RVs) come in various shapes and sizes, each designed to cater to a specific need or preference. The following is an overview of the different types of RVs, commonly referred to as "classes":
Class A Motorhomes
Class A motorhomes are the largest and most luxurious of the motorized RV classes. They are built on a specially designed chassis and often resemble a bus in appearance. These motorhomes offer a spacious interior with ample living space, a full kitchen, bathroom, and bedroom. They often feature high-end amenities such as slide-outs, air conditioning, and sophisticated entertainment systems. Due to their size, Class A motorhomes can be more challenging to drive and park, and they also have lower fuel efficiency compared to smaller RVs.
Class B Motorhomes
Class B motorhomes, also known as camper vans or van conversions, are the smallest and most maneuverable of the motorized RV classes. They are built on a standard full-sized van chassis, with a raised roof to provide more headroom. These compact RVs typically offer basic amenities such as a small kitchenette, a sleeping area, and a compact bathroom. Class B motorhomes are ideal for solo travelers or couples, as they are easier to drive and park and offer better fuel economy than larger motorhomes.
Class C Motorhomes
Class C motorhomes are a mid-sized option, built on a truck or van chassis with an attached cab. They usually feature a distinctive over-cab sleeping area, in addition to a living area, kitchen, and bathroom. Class C motorhomes offer more space and amenities than Class B motorhomes, while still being more manageable and fuel-efficient than Class A motorhomes. They are a popular choice for families or groups who require more space than a camper van but do not want the size and expense of a Class A motorhome.
Travel Trailers
Travel trailers are towable RVs that come in a wide range of sizes and styles. They are designed to be towed behind a vehicle, such as a truck, SUV, or even some cars, using a bumper or frame hitch. Travel trailers typically include a living area, kitchen, bathroom, and one or more sleeping areas. They offer the convenience of being detachable from the towing vehicle, which can be used for sightseeing or running errands without the need to pack up the entire RV.
Fifth Wheel Trailers
Fifth wheel trailers are a type of towable RV that is designed to be towed by a pickup truck using a special hitch mounted in the truck bed. These trailers are known for their distinctive bi-level design, with the master bedroom typically located in the raised section over the truck bed. Fifth wheel trailers offer more living space than travel trailers and often feature slide-outs and luxurious amenities. They also provide greater stability while towing, due to the hitch's position in the truck bed.
Truck Campers
Truck campers are compact, portable living units designed to be mounted on the bed of a pickup truck. They offer basic amenities such as a sleeping area, a small kitchenette, and sometimes a compact bathroom. Truck campers are a convenient option for those who already own a pickup truck and are looking for an affordable, easy-to-drive RV option.
Pop-Up Campers
Pop-up campers, also known as folding or tent trailers, are lightweight, towable RVs that can be collapsed for easy storage and transport. They consist of a low-profile trailer base with a collapsible upper section made of canvas or other durable materials. Pop-up campers typically include basic amenities such as sleeping areas, a small kitchenette, and a dining area. Some models may also have a compact bathroom. When expanded, pop-up campers provide a comfortable camping experience with more protection from the elements than a traditional tent. They are a popular choice among those who want an affordable, easy-to-tow RV option that offers more comfort than traditional tent camping.
Resources
When choosing the right RV for you, consider factors such as size, amenities, ease of driving and parking, and fuel efficiency to make an informed decision.
Next Topic…