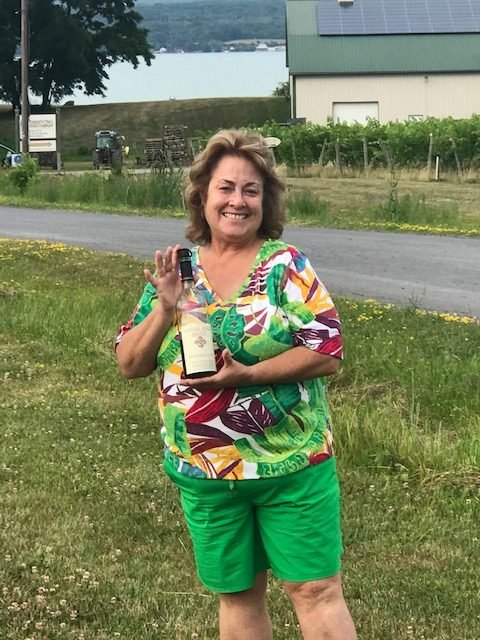 Our first experience with Harvest Hosts was a stay at Cayuga Ridge Estate Winery. My initial impression was very positive. There were a couple of RVs already there and the camping location had a spectacular view of Cayuga Lake. Visitors are directed to a vintage barn, which serves as a one-stop welcome center, gift shop, and wine tasting bar! Our greeter was a pleasant young woman and recent college grad. In addition to her wine knowledge, she was also a service dog trainer and introduced us to her current student – a beautiful and well-trained Golden Lab.
The owner, Tom, has run this vineyard for the past 30 years. He made it a point to come over and chat with us while we were at the bar. He even suggested the best location to set up camp. My wife and I each sampled 4 wines. I am by no means a wine connoisseur, but I know what I like. Some suited my taste more than others, which is to be expected. If you find yourself in the Finger Lakes and are unsure which wineries to check out, I encourage you to add Cayuga Ridge to your list – you won't be disappointed.
Some Local things to do
Here are some suggestions for things to do in Ovid:
Visit the Finger Lakes Wine Country, where you can taste a variety of wines from local wineries and visit beautiful vineyards.
Explore the Seneca Lake State Park, which offers hiking trails, boating, fishing, and picnicking.
Visit the Willard Memorial Chapel, a beautiful Victorian-era chapel that features stained glass windows, intricate woodwork, and a functioning pipe organ.
Shop and dine in downtown Ovid, where you will find a variety of unique shops, restaurants, and galleries.
Play a round of golf at the Ovid Country Club, a beautiful 9-hole course that offers a challenging layout and stunning views of Seneca Lake.
Visit the Ovid Public Library, which offers a variety of programs, events, and resources for residents and visitors.
Attend an event at the Ovid-Elsie Central School District Athletic Field, which hosts a variety of sports and community events throughout the year.
Resources
Overall, there are many interesting and exciting things to do in Ovid, NY, offering something for everyone to enjoy.