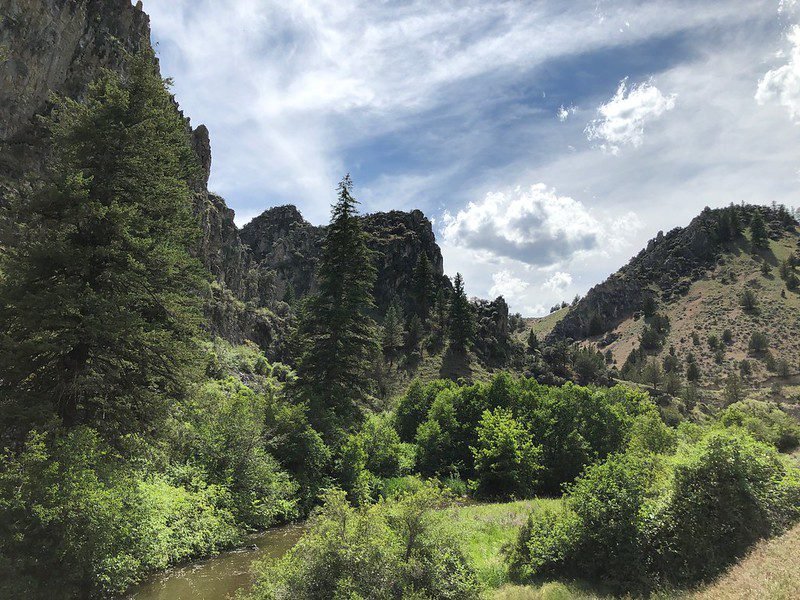 Burnt River Canyon via Bureau of Land Management on flickr
RV camping and boondocking offer a unique way to experience the great outdoors, providing freedom, flexibility, and the opportunity to connect with nature. By camping for free or boondocking, you can save money and avoid crowded campgrounds, giving you a more authentic and immersive adventure.
Benefits of free RV camping spots
Free RV camping spots allow you to enjoy nature without breaking the bank. They often provide more privacy and solitude than traditional campgrounds and give you the opportunity to explore lesser-known destinations.
Understanding boondocking etiquette and Leave No Trace principles.
When boondocking, it's crucial to respect the environment and fellow campers by following Leave No Trace principles and practicing good boondocking etiquette. This includes disposing of waste properly, minimizing noise and light pollution, and leaving your campsite better than you found it.
Arches National Park, UT via Tony Kent on flickr
Boondocking in National Parks
Overview of boondocking regulations in National Parks
While boondocking opportunities in National Parks are limited, some parks do allow for dispersed camping in designated areas. It's essential to research the specific park you plan to visit and follow their rules and regulations.
Best National Parks for boondocking
Some of the best National Parks for boondocking include Big Bend, Death Valley, and Grand Staircase-Escalante. These parks offer stunning landscapes and a variety of boondocking opportunities.
Tips for boondocking in National Parks
When boondocking in National Parks, be prepared for limited amenities and services. Bring enough water, food, and supplies, and make sure to practice Leave No Trace principles to protect these precious landscapes.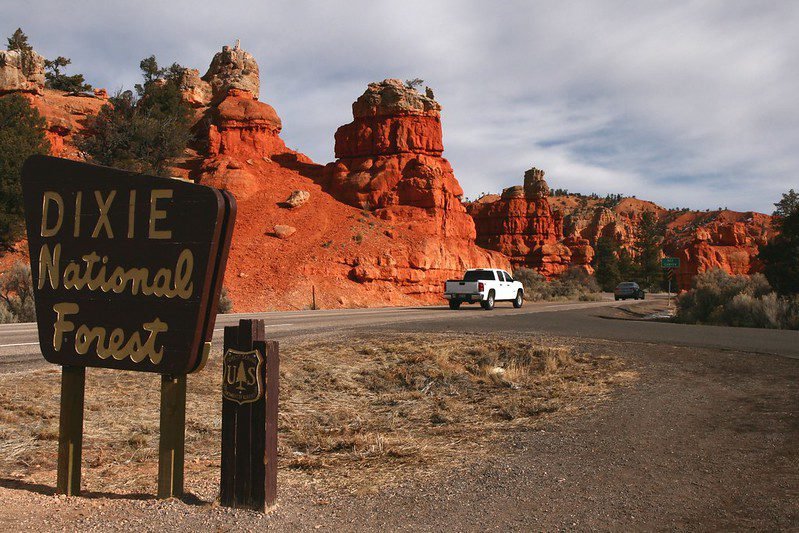 Dixie National Forest via Thank You (24 Millions) on flickr
Boondocking in National Forests
Overview of National Forests and their camping policies
National Forests offer some of the best boondocking opportunities in the US, with many allowing dispersed camping for free. Always check the specific forest's rules and regulations, as they may vary between locations.
Best National Forests for boondocking
Some of the top National Forests for boondocking include Coconino, Inyo, and Pisgah. These forests provide diverse landscapes and ample opportunities for secluded camping.
Tips for boondocking in National Forests
When boondocking in National Forests, choose a previously-used site whenever possible to minimize your impact on the environment. Be prepared for changing weather conditions and pack accordingly.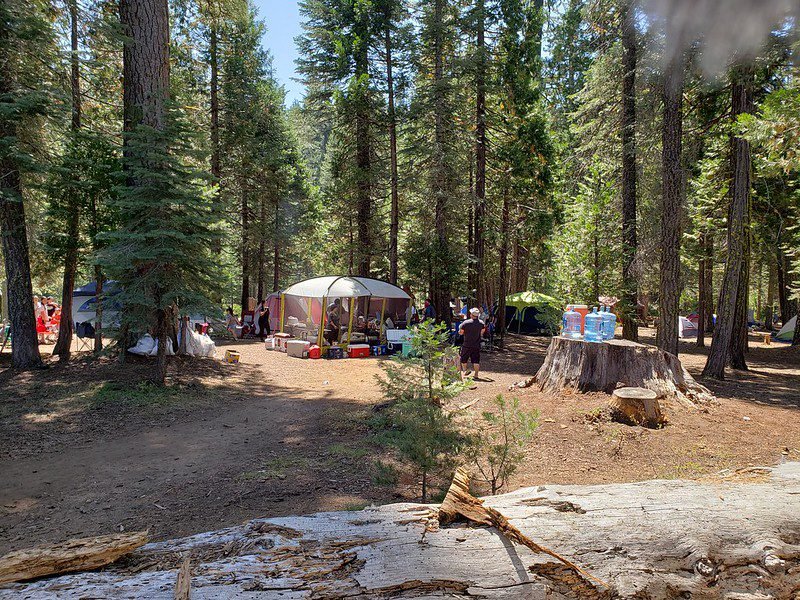 Image by: Pacific Southwest Forest via flickr
Backcountry and Dispersed Camping
Definition and differences between backcountry and dispersed camping
Backcountry camping refers to camping in remote, wilderness areas, often requiring a hike or off-road journey to reach. Dispersed camping is a term used to describe camping outside of designated campgrounds, often for free and with fewer amenities.
Locating backcountry and dispersed camping sites
To find backcountry and dispersed camping sites, utilize resources such as maps, guidebooks, and online forums. Contact local ranger stations for up-to-date information and recommendations.
Tips for a successful backcountry or dispersed camping experience
For a successful backcountry or dispersed camping experience, plan ahead, pack essential gear, and follow Leave No Trace principles. Be prepared to be self-sufficient and adaptable, as unexpected situations may arise.
Free Campgrounds and Parking Areas
Public lands offering free campgrounds
Various public lands offer free campgrounds, including some National Forests, Bureau of Land Management (BLM) land, and Wildlife Management Areas (WMAs). Research the specific public lands you plan to visit for information on available free camping options.
Finding free parking areas for overnight stays
Free overnight parking can often be found at locations like Walmart, Cracker Barrel, and some rest areas or truck stops. Always check with the specific location to ensure overnight parking is allowed.
Tips for utilizing free campgrounds and parking areas
When using free campgrounds or parking areas, be respectful of the space and other users. Keep noise levels down, clean up after yourself, and avoid overstaying your welcome.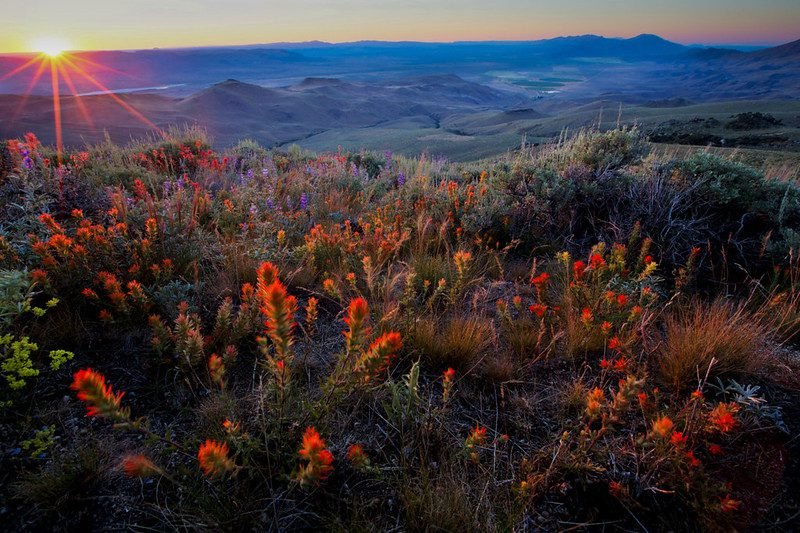 Pine Forest Range Wilderness Area, NV via Bureau of Land Management on flickr
Boondocking on BLM Land
Overview of Bureau of Land Management (BLM) land
BLM land offers some of the best opportunities for boondocking in the US, with millions of acres available for dispersed camping. BLM land is public land managed by the Bureau of Land Management, offering a wide range of outdoor recreation opportunities.
Best BLM land areas for boondocking
Some of the top BLM land areas for boondocking include the Alabama Hills in California, Quartzsite in Arizona, and the San Juan Islands in Washington. These locations offer incredible scenery and diverse boondocking options.
Tips for boondocking on BLM land
When boondocking on BLM land, choose previously-used sites to minimize your impact on the environment. Be self-sufficient, as amenities and services are often limited. Always follow the specific rules and regulations of the BLM area you are visiting.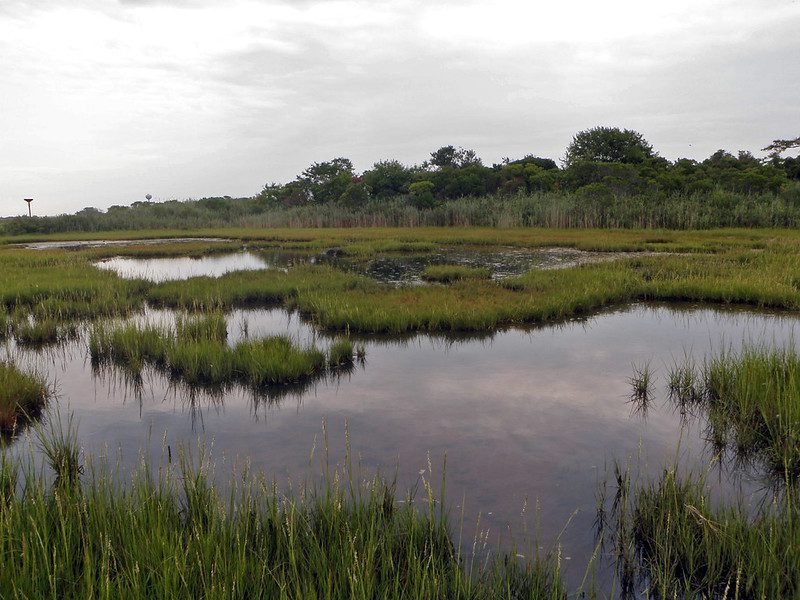 Lido Beach Wildlife Management Area via U.S. Fish and Wildlife Service on flickr
Boondocking at Wildlife Management Areas (WMAs)
Overview of Wildlife Management Areas
WMAs are managed by state wildlife agencies to conserve and protect wildlife and their habitats. Some WMAs allow for free camping, providing unique boondocking opportunities.
Best WMAs for boondocking
Some of the best WMAs for boondocking can be found in states like Florida, Texas, and Georgia. Research specific WMAs in your desired area to find the perfect spot.
Tips for boondocking at WMAs
When boondocking at WMAs, respect the wildlife and their habitat by following Leave No Trace principles and adhering to the specific rules and regulations of the WMA. Be prepared for limited amenities and services.
Online Resources for Finding Free RV Camping
Top websites and mobile apps
Popular websites and mobile apps for finding free RV camping and boondocking spots include Campendium, FreeCampsites.net, iOverlander, and AllStays. These resources provide user reviews, photos, and valuable information to help plan your boondocking adventures.
Using social media groups and forums
Online forums, Facebook groups, and other social media communities can be excellent resources for discovering new boondocking spots and gathering tips from experienced RVers.
Tips for using online resources effectively
When using online resources, cross-reference information from multiple sources and read recent reviews to ensure accuracy. Always double-check rules and regulations with the specific location or managing agency.
Boondocking Safety and Security
Tips for staying safe while boondocking
To stay safe while boondocking, choose well-established sites, lock your RV when you're away, and trust your instincts when it comes to selecting a location. Carry a well-stocked first aid kit and have a plan in case of emergencies.
Ensuring RV security and theft prevention
To prevent theft while boondocking, lock all doors and windows, use a steering wheel lock, and consider installing a security system. Don't advertise your absence and store valuables out of sight.
Wildlife safety during boondocking
To ensure wildlife safety during boondocking, store food and scented items securely, maintain a safe distance from wildlife, and carry bear spray or other deterrents when appropriate. Educate yourself on the specific wildlife concerns in your camping area.
Boondocking Essentials and Gear
Must-have items for boondocking
Essential items for boondocking include a reliable water source, portable waste tanks, solar panels or a generator for power, leveling blocks, and basic tools for maintenance and repairs.
RV modifications and upgrades for boondocking
Consider upgrading your RV with additional batteries, solar panels, a composting toilet, or improved insulation to make boondocking more comfortable and efficient.
Tips for efficient packing and organization
To pack efficiently for boondocking, make a checklist, prioritize multi-functional items, and utilize storage solutions like bins and organizers. Regularly evaluate your gear and eliminate items you don't use.
Boondocking Tips for Full-Time RVers
Planning long-term boondocking stays
For long-term boondocking, plan your route and identify multiple potential camping spots. Ensure you have enough resources like water, fuel, and groceries to last the duration of your stay, and always have a backup plan in case a location is unavailable.
Managing resources for extended boondocking trips
Monitor and conserve water, power, and fuel usage to maximize your resources during extended boondocking trips. Invest in solar power, use energy-efficient appliances, and be mindful of waste management.
Tips for balancing work and leisure while boondocking full-time
To balance work and leisure, create a routine, designate a dedicated workspace in your RV, and set boundaries between work and relaxation time. Make time to explore your surroundings and connect with fellow boondockers to enhance your experience.
Boondocking with Kids and Pets
Preparing for boondocking with kids
When boondocking with kids, involve them in trip planning and educate them about boondocking safety, wildlife, and Leave No Trace principles. Bring along age-appropriate toys, games, and educational materials to keep them entertained.
Boondocking with pets: safety and comfort
Ensure your pet's safety and comfort by providing a secure environment, adequate shade, and access to fresh water. Keep pets on a leash when outside the RV, and be aware of local wildlife and potential hazards.
Tips for making boondocking enjoyable for the whole family
Create a comfortable living space, plan activities that cater to everyone's interests, and maintain open communication to ensure everyone's needs are met. Share responsibilities and celebrate small successes to create a positive boondocking experience for the entire family.
Boondocking Etiquette
Respecting fellow campers and the environment
Show respect for fellow campers by maintaining a reasonable distance between campsites, keeping noise levels down, and respecting quiet hours. Protect the environment by following Leave No Trace principles and minimizing your impact.
Noise and light pollution considerations
Be mindful of noise and light pollution by using headphones when listening to music or watching videos, and using low-wattage, directional lighting to minimize light pollution.
Tips for practicing good boondocking etiquette
Communicate with fellow boondockers, be willing to share resources and knowledge, and leave your campsite cleaner than you found it to demonstrate good boondocking etiquette.
Boondocking and Sustainability
Minimizing your environmental impact while boondocking
To minimize your environmental impact while boondocking, choose established campsites, practice Leave No Trace principles, and use eco-friendly products. Reduce water and energy consumption and properly dispose of waste.
Using renewable energy sources during boondocking
Invest in solar panels, wind generators, or other renewable energy sources to reduce your reliance on fossil fuels and make your boondocking experience more sustainable.
Tips for sustainable boondocking practices
Research sustainable practices, share your knowledge with fellow boondockers, and support businesses and organizations that promote sustainability.
Troubleshooting Common Boondocking Issues
Dealing with weather-related challenges
Monitor weather forecasts, invest in weather-resistant gear, and have contingency plans for unexpected weather events. Be prepared to adjust your plans if necessary.
Handling RV maintenance and repairs while boondocking
Carry basic tools and spare parts, and familiarize yourself with common RV repairs. Maintain a list of nearby repair facilities and mobile RV technicians to handle more complex issues while boondocking.
Tips for overcoming common boondocking obstacles
Develop problem-solving skills, stay flexible, and maintain a positive attitude to overcome common boondocking challenges. Reach out to the boondocking community for advice and support when needed.
Final tips for a successful boondocking experience
Be prepared, stay flexible, and maintain a sense of adventure to make the most of your boondocking experiences. Embrace the boondocking community and share your experiences to help others discover the joys of free RV camping and boondocking.
Next Topic