It was bound to happen – Meier's Creek Brewing Company was the first Harvest Host that failed to exceed my expectations. Don't get me wrong – the experience was acceptable, but I wouldn't go back. There are just too many options that are BETTER.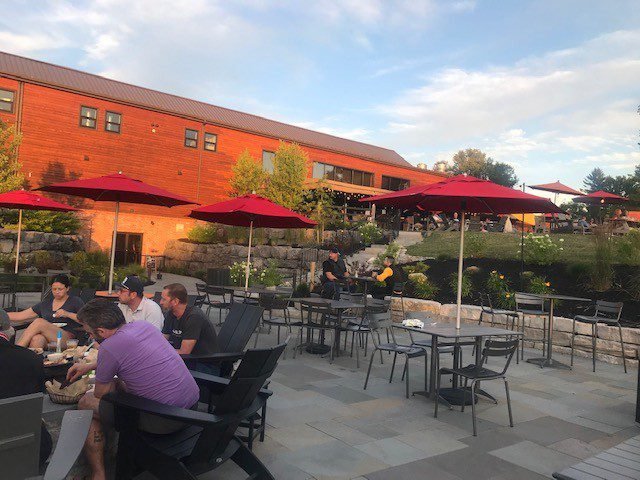 The facility itself is great. Modern buildings with an industrial feel – the perfect ambiance for a microbrewery. Outside was replete with amenities ranging from cornhole to disc golf on a well-manicured lawn. It is family & pet friendly with kids & dogs everywhere., sure to bring a smile to your face.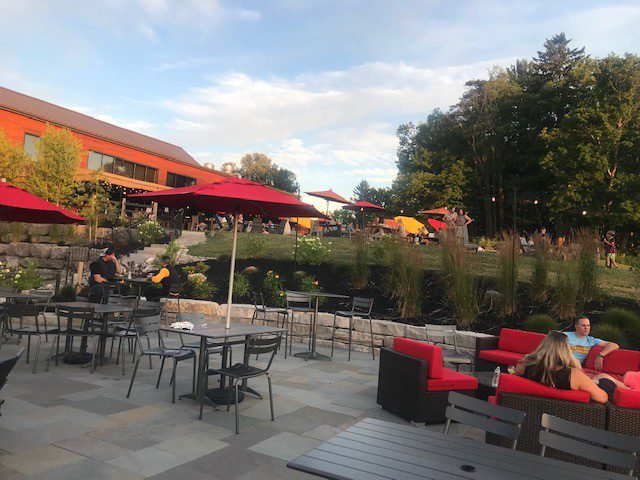 Getting down to business – "good beer" is highly subjective. I generally live by the credo there is no such thing as a bad beer, just some are better than others. After trying a flight of beers ranging from mild to sour to stout, I was unable to find a beer that tasted good to me. Cindy also ordered a flight that contained a couple of seltzers. She was able to find a winner there. So… I ordered a diet Coke & she ordered a seltzer, then we wandered outside to find a seat & enjoy one another's company.
Despite having a lot of green space, the single harvest host spot was located in the corner of the parking lot in a section striped off for no parking. If you're into the cracker barrel parking lot experience, this is a good fit. That said, I know they could do better.
Resources
Some local things to do
Here are some suggestions for things to do in Cazenovia:
Visit the Cazenovia Lake Nature Preserve, a beautiful nature reserve that offers hiking trails, birdwatching, and picnicking.
Explore the Cazenovia College Arboretum, a 100-acre botanical garden that features a variety of trees, shrubs, and flowers.
Visit the Lorenzo State Historic Site, a beautiful 19th-century mansion that offers tours, events, and educational programs.
Shop and dine in downtown Cazenovia, where you will find a variety of unique boutiques, galleries, and restaurants.
Play a round of golf at the Cazenovia Country Club, a picturesque 18-hole golf course that offers a challenging layout and beautiful views.
Visit the Cazenovia Public Library, which offers a variety of programs, events, and resources for residents and visitors.
Attend an event at the Cazenovia College Athletic Field, which hosts a variety of sports and community events throughout the year.
Conclusion
Cazenovia, NY is a quaint and delightful town that boasts a wide array of activities and attractions for visitors to indulge in. With its picturesque landscapes, rich history, and welcoming community, Cazenovia provides an unforgettable experience for travelers seeking both relaxation and adventure.
Nestled in the heart of Central New York, Cazenovia offers a serene backdrop for outdoor enthusiasts who can explore the Cazenovia Lake Nature Preserve, the Cazenovia College Arboretum, and various parks and trails. History buffs will appreciate the town's well-preserved architecture and sites like the Lorenzo State Historic Site, which provides a glimpse into 19th-century life.
The vibrant downtown area features unique boutiques, art galleries, and a diverse range of dining options that cater to different tastes, creating an enjoyable atmosphere for strolling and socializing. Additionally, the Cazenovia Public Library and Cazenovia College Athletic Field serve as hubs for community events and educational programs, fostering a sense of unity among residents and visitors alike.
Whether you're a fan of craft beer, nature, history, or shopping, Cazenovia, NY has something to offer everyone. Its charm and variety of attractions make it a must-visit destination for those seeking an authentic small-town experience in the beautiful Central New York region.